Posts: 9,340 +119
Staff member
Rumor mill: A new report claims that Nvidia is getting ready to divert some of its desktop GPU supply to notebooks as a way of keeping up with massive demand for the latter in China. The concern is that it could lead to another shortage of desktop graphics cards, but such a scenario seems very unlikely.
HardwareTimes writes that this is just a rumor from China, so take it with a pinch of salt. It's claimed that Nvidia is allocating some of its Ada Lovelace desktop chip capacity to notebooks, rather than increasing laptop GPU production to meet demand.
The source claims the RTX 4060 and RTX 4070 desktop cards will be impacted. We heard in April that Nvidia could cut the supply of RTX 4070 GPUs in response to slow sales, though we never saw much impact on the market if it did carry out these plans.
Both the RTX 4060 and its Ti versions have also failed to set the world on fire, especially in Japan. It suggests there is plenty of supply of the expensive cards, which some retailers have been offering at discounted prices as part of deals. In the case of the RTX 4060 Ti, it only just entered the Steam chart, and with a comparatively tiny user share.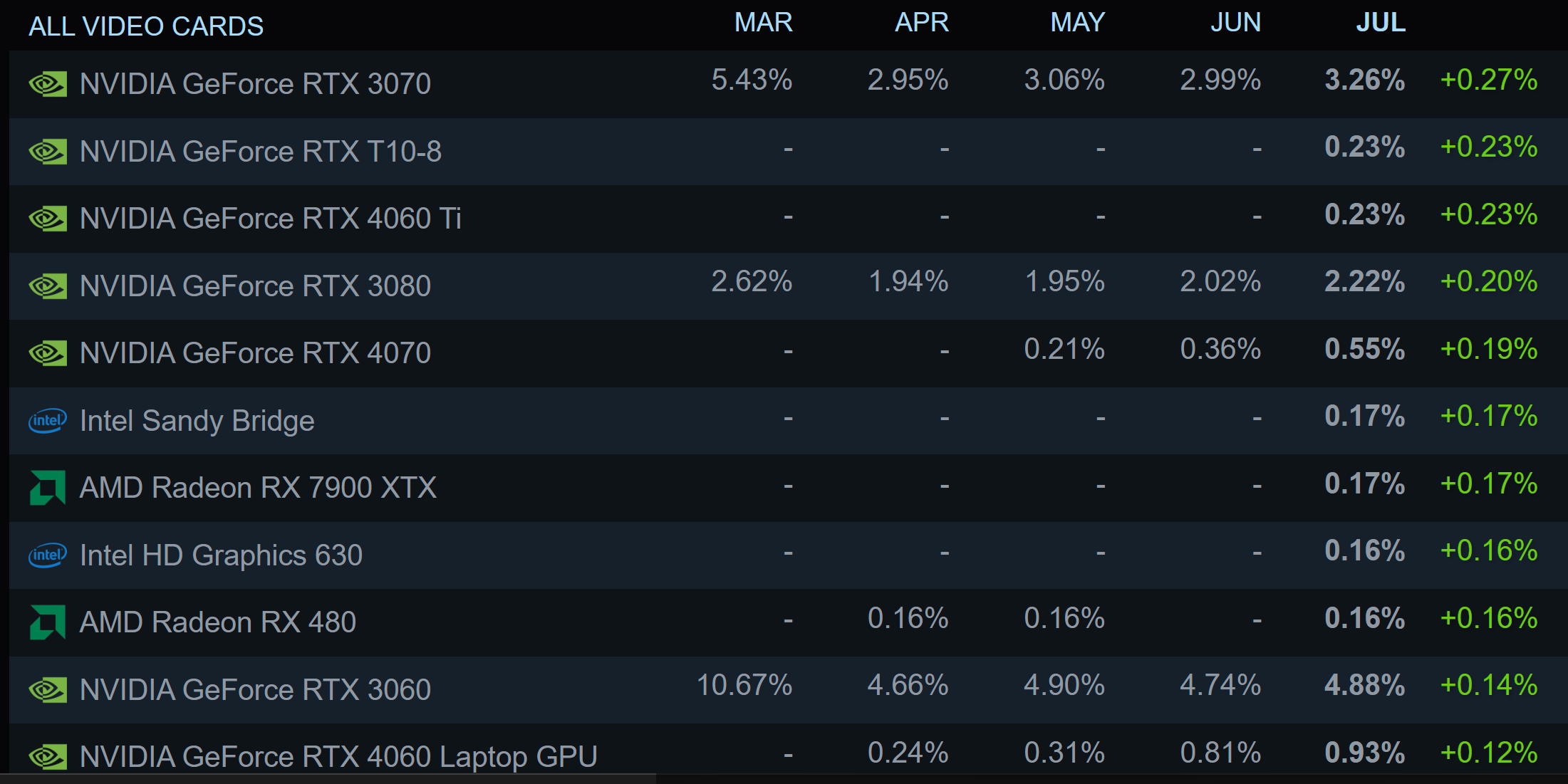 The top-performing graphics cards among Steam survey participants last month
As PC Gamer notes, however, a tighter supply of these cards could enable their retail prices to stay at their standard high level, with no deals or discounts on offer.
Any talk of supply restrictions brings back bad memories of the graphics card shortage that saw prices reach three times their MSRP at one point. The pandemic, chip issues, and high cryptocurrency prices combined in a perfect storm that made purchasing a graphics card a matter of luck and money – lots of money.
Even if the RTX 4060 and 4070 did see their supply reduced, the limited demand for these expensive cards means we might not even notice.
There's also AMD's upcoming Radeon RX 7800 and RX 7700 to consider. They're rumored to be officially announced at Gamescom 2023, which starts next week, and are expected to compete with or even outperform Nvidia's midrange products while sporting a cheaper MSRP. That could prompt Team Green to introduce some price cuts to the RTX 4060/Ti and 4070.
https://www.techspot.com/news/99794-nvidia-may-divert-lovelace-desktop-gpu-supply-notebooks.html