Posts: 9,351 +119
Staff member
Facepalm: Remember when Diablo Immortal made headlines for becoming the lowest-scoring game on Metacritic based on user reviews? Blizzard has managed to repeat the unwanted feat on a different platform: Overwatch 2 is now the worst-reviewed game on Steam.
Since its arrival on Steam on Thursday at 2.30pm ET, Overwatch 2 has amassed just over 95,000 reviews, 86,000 of which are negative. According to the Steam250.com website that shows the worst-reviewed games on Valve's platform, Overwatch 2 now sits on top of the list thanks to its 0.96 aggregate user score and mere 10% positive rating.
Free-to-play Overwatch 2's negative reviews mean it has now dethroned War of the Three Kingdoms as the most disliked Steam title - not an easy thing to do.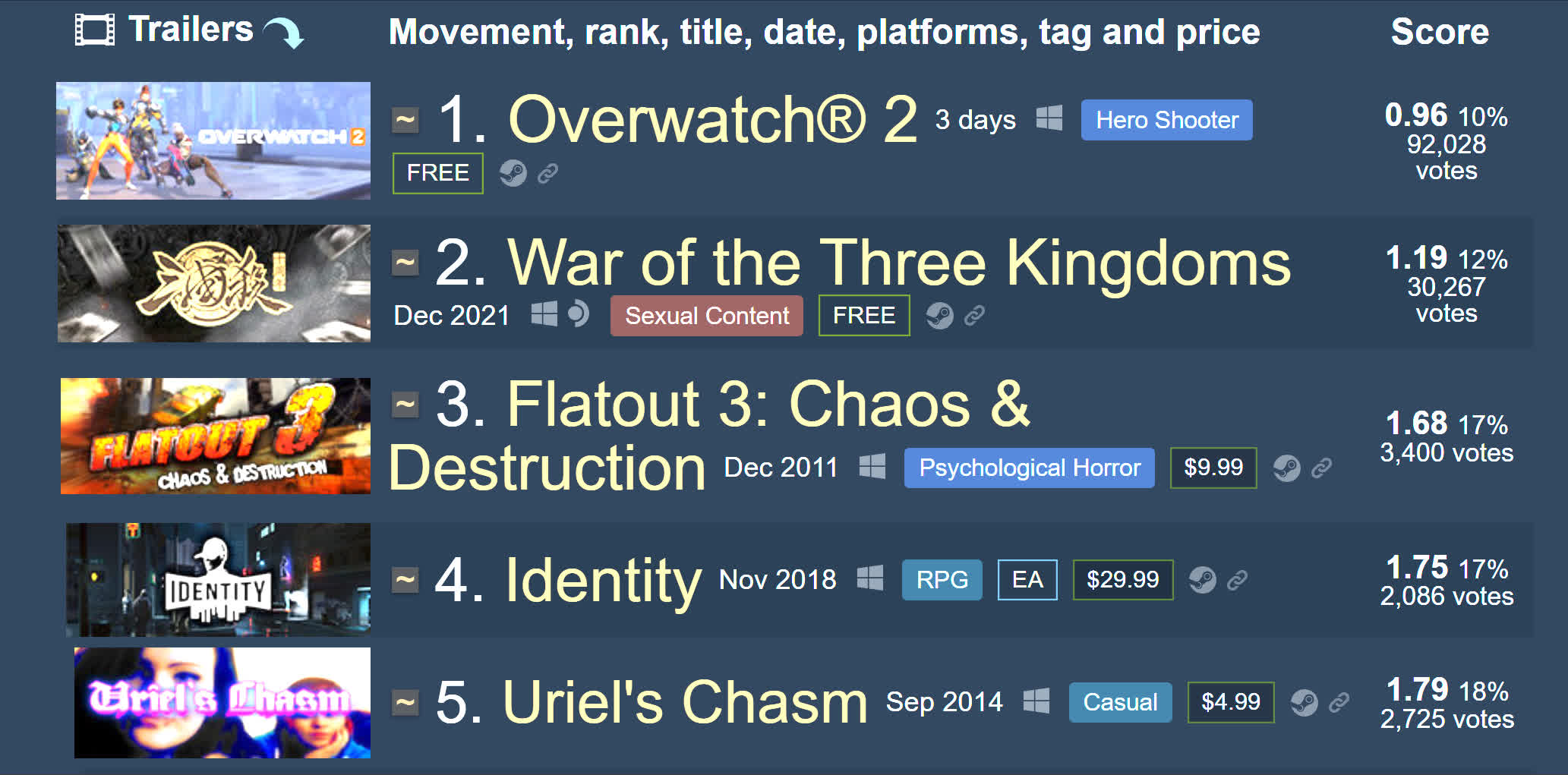 Overwatch 2 sits alongside some Steam legends
Most of the review bombs have been aimed at the lack of content, overpowered heroes, the community, bugs, and so on. Aggressive monetization policies – something Blizzard is familiar with and prompted the Diablo Immortal backlash – are also a point of contention for many reviewers.
"The people who make Overwatch porn work harder than the people who make Overwatch," states the most-helpful review. "I somehow purchased Overwatch 1 for $40, which Blizzard then deleted and created this predatory microtransaction simulator instead," reads another.
Of particular annoyance is Blizzard's decision to cancel Overwatch 2's Player-versus-Enemy co-op Hero mode. A surprising move, given that the mode was one of Overwatch 2's original selling points. Blizzard has released three Story Missions as part of the Overwatch 2: Invasion Bundle, but the $15 price tag has proved controversial.
There are still plenty of people playing Overwatch 2, despite the negativity. SteamDB lists the number of peak concurrent players in the last 24 hours at 71,406, while the all-time peak was 75,608: it's the 16th most-played Steam game at the time of writing. There are also over 9,000 positive reviews; it's just that the game has ten times more bad ones.
The situation will likely feel all too familiar for Blizzard. The microtransaction-heavy mobile-focused/PC title Diablo Immortal was slammed on release for a monetization system that would require players to spend over $110,000 to max out their character. It became the worst-reviewed game on Metacritic based on user scores yet still made almost $50 million in its first month.
https://www.techspot.com/news/99766-overwatch-2-worst-game-steam-according-user-reviews.html