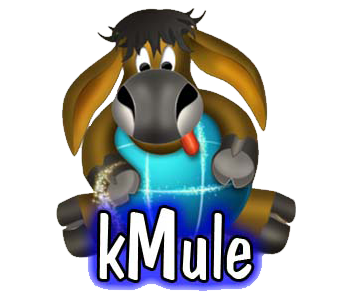 kMule 2013-07-05
A really small ed2k client without bloat - downloading at its best!
kMule - short form for "kad mule" - is intended to be the most lightweight eMule compatible client out there. While eMule does a great job, it may contain too much bloat for the everyday user and it's updated not often enough to respond to the users wishes. That's where kMule comes in, it's basically a barebone "mule", designed to run unattended.
Features:
first KAD ONLY client
up-to-date libraries
autoupdate system
automatic ipfilter/mediainfo updating
built-in CA leecher and search fake protection
filename disparity check
clear user interface
enhanced ed2k links and collections with folder support
per-directory sharing permissions
SNARL support
improved first start assistant incl. connection wizard
ICS, SOTN, Powershare, Anti-HideOS
searchCatch & passive src finding for more sources
What's New:
updated miniupnplib support to v1.8 (11/02/2013) [Tuxman/WiZaRd]
kMule will now offer to restart itself if necessary [WiZaRd]
fixed minimule ratio icon when uploading only [WiZaRd]
renaming a shared file keeps the original file extension now [Tuxman]
fixed a possible crash when trying to retrieve proxy settings from OS - to dylandog84 [WiZaRd]
added a couple of ED2KFileTypes [Tuxman/WiZaRd]
NeoLoader detection by David Xanatos [Tuxman]
void debug-related function overhead [Tuxman - original by YumeYao]
prevent detecting VBR .mp3 files as "fake" [WiZaRd]
added modicon.dll support [WiZaRd]
fixed "apply" button in files options - to dylandog84 [WiZaRd]
added kMule ul/dl stats [WiZaRd]
added kMule client icon [WiZaRd]
replaced SevenZip++ by 7z console code to allow extraction of non-7z/zip archives [WiZaRd]
Software similar to kMule
6
uTorrent is an efficient and feature rich BitTorrent client for Windows sporting a very small footprint.

Resurrected version of the P2P application let's you search and share files through the Gnutella network.