Forspoken requires 150GB of storage and needs an RTX 3070 for 1440p @ 30fps
The game also recommends 24GB or 32GB of RAM
By Daniel Sims 47 comments
TechSpot is celebrating its 25th anniversary. TechSpot means tech analysis and advice
you can trust
.
In brief: Forspoken's newly unveiled system requirements roughly line up with other recent and upcoming AAA games that no longer support the PlayStation 4 and Xbox One. The ever-popular GTX 1060 hangs on in the minimum specs, but new titles are increasingly recommending cards like the RTX 2070 and 3070.
Square Enix revealed the final system requirements for its upcoming open-world action RPG Forspoken. PlayStation 5 owners might also want to give the demo another spin, as the publisher just patched it.
Forspoken is another sign that PC system requirements are establishing a new standard. Several big-name titles launched last year list the GTX 1060 --- Steam's second most popular GPU in December --- as the recommended graphics card.
Forspoken lists it under minimum requirements for 720p 30fps gameplay. Other games like Returnal, the Dead Space remake, A Plague Tale: Requiem, and Star Wars Jedi: Survivor also list the GTX 1060, 970, or 1070 under minimum requirements, with the 2070 usually appearing under recommended.
Possibly even more surprising is that Forspoken recommends the RTX 3070 or a Radeon 6700 XT for 1440p 30fps gameplay. Square Enix suggests an RTX 4080 or Radeon 6800 XT for 4K gameplay at 60fps with ultra settings.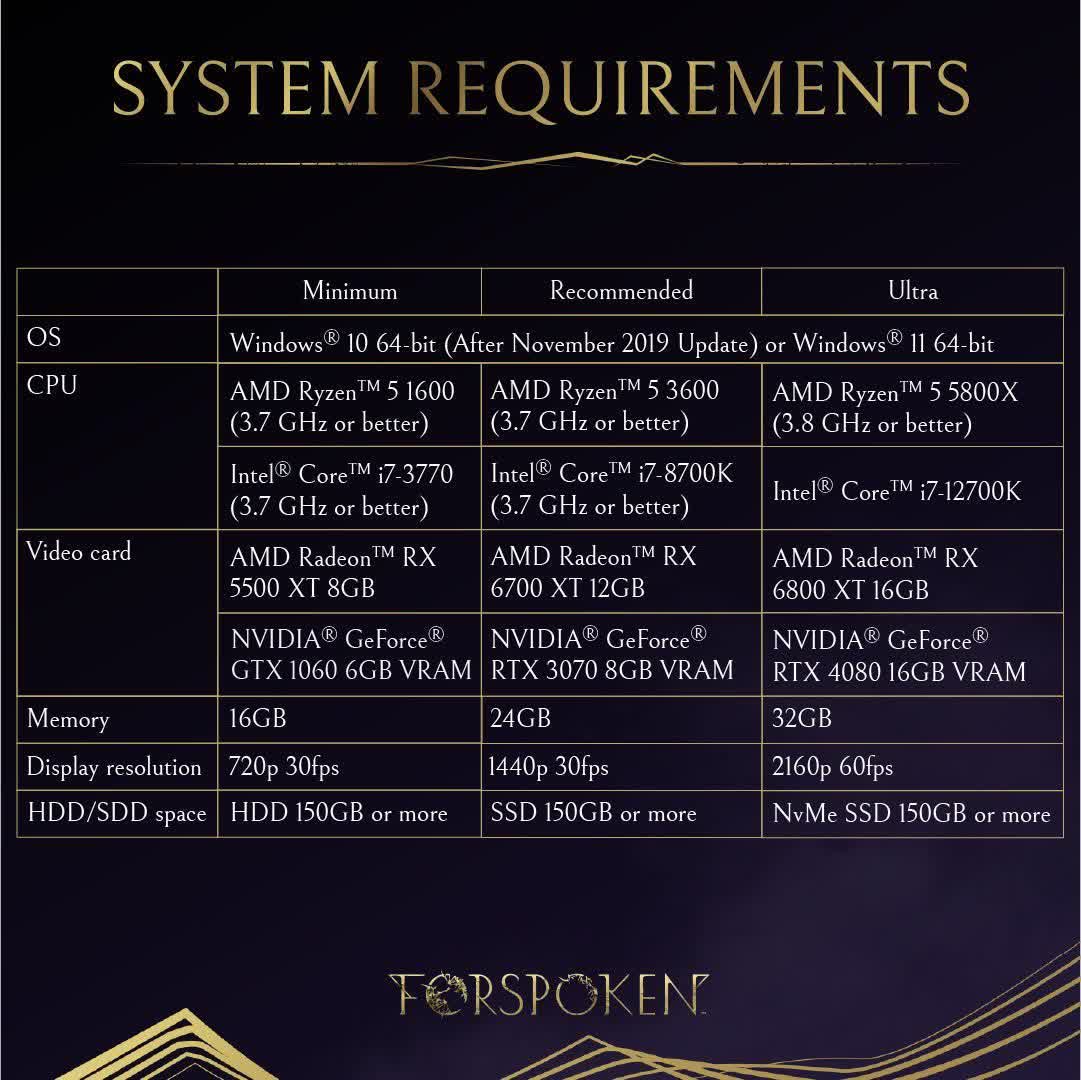 System memory requirements have also ticked upward recently. Forspoken, like Dead Space, Requiem, and Returnal, requires 16GB. Square Enix's new title recommends 24GB, but its ultra spec suggests 32GB.
Another concerning trend is games pushing storage requirements beyond triple-digit gigabytes, and Forspoken is no exception. Some games like Dead Space stick to a relatively reasonable 50 or 60GB, but Forspoken needs an eye-watering 150GB!
Many are likely interested in the game because it will be the first PC title to use Microsoft's DirectStorage API. The new feature should reduce level load times for Windows 11 users using NVMe SSDs, as seen in PlayStation 5 and Xbox Series consoles. Square Enix claims Forspoken can load new scenes in around one second in SSDs that reach 5GBps, meaning either PCIe 4.0 or 5.0 drives.
Square Enix also confirmed PC-specific features like 32:9 ultra widescreen (not during cutscenes), HDR, and FSR 2.0. Although the company didn't mention DLSS, games that include FSR 2.0 tend to receive mods adding DLSS since the work that goes into the two upscaling solutions is similar, Judgment being a recent example.
The PS5-only demo received an update this week that adds button mapping, fixes some technical issues, and adjusts text size in some places. Forspoken launches on PlayStation 5 and PC on January 24.