Intel posts biggest quarterly loss in company history as processor sales plunge
CEO Pat Gelsinger is still optimistic the open foundry model will pay off in the coming years
By Adrian Potoroaca 25 comments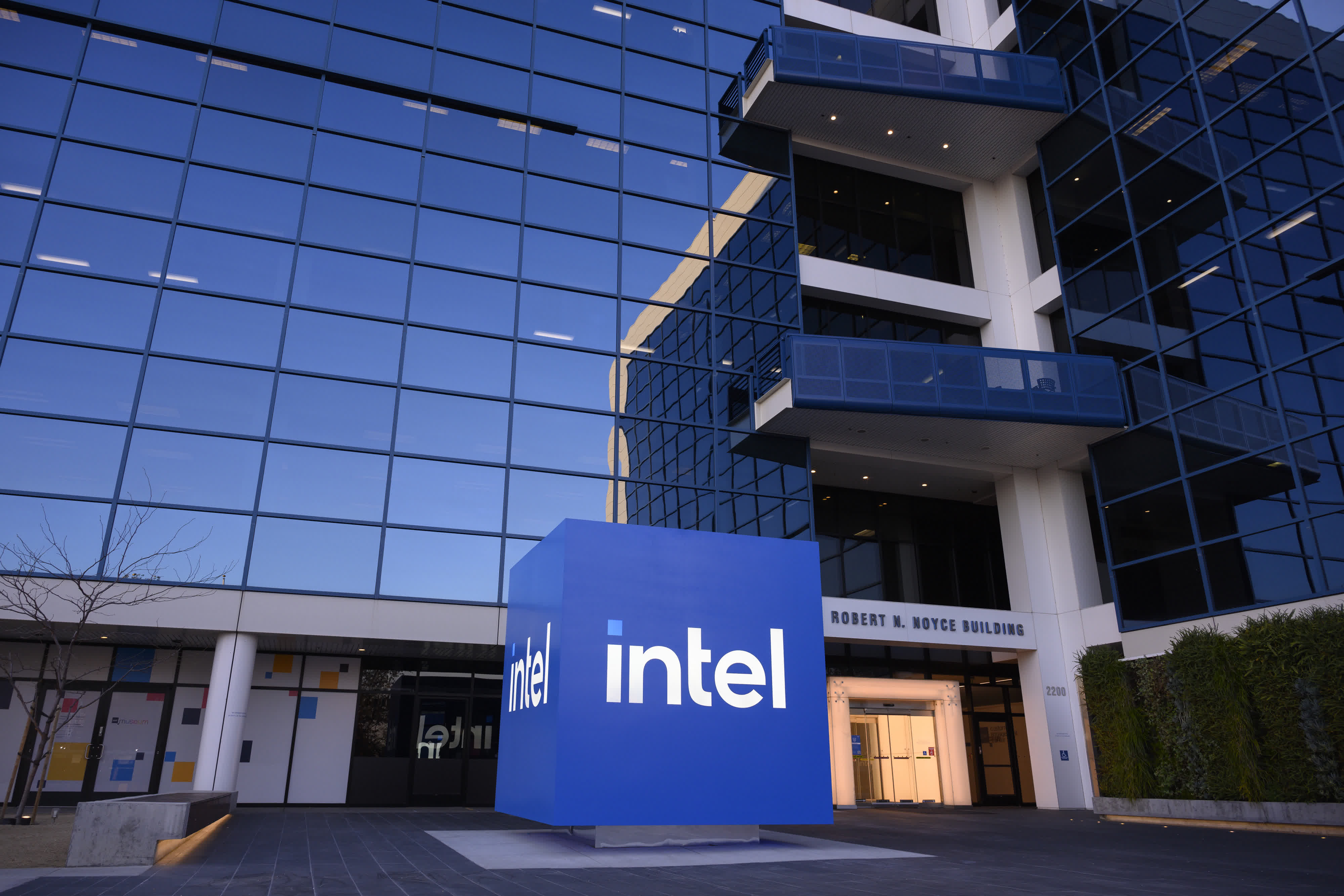 TechSpot is celebrating its 25th anniversary. TechSpot means tech analysis and advice
you can trust
.
Bottom line: Unlike other tech giants like Microsoft and Google, Intel's bottom line is hurting this year. The company saw a $2.8 billion loss in Q1 – the worst in its history and a major hit at a time when it is scrambling to pivot towards an open foundry model and protect its future. CEO Pat Gelsinger assumed a lot of risks with the new strategy and believes it will pay off in spades, but we'll have to wait and see.
Intel isn't in great shape right now. The tech giant's Q1 2023 revenues fell 36 percent year-over-year to $11.7 billion – the largest drop recorded by the company in its 55 years of existence. While it did pay dividends of over $1.5 billion, investors are worried about the long-term profitability of the company as its gross margin dropped from 50.4 percent in Q1 to 34.2 percent in the first quarter of this year.
One thing is clear – Intel and Microsoft's fortunes have been diverging in the past several years in stark contrast to the days of the infamous Wintel empire. The Redmond giant is doing better than most tech giants during an economic storm, and its tech culture and focus have changed a lot in recent years. Meanwhile, Intel has yet to achieve the same transformation despite hopes that Pat Gelsinger's return to the company would have the same effect as that of Steve Jobs when he went back to Apple.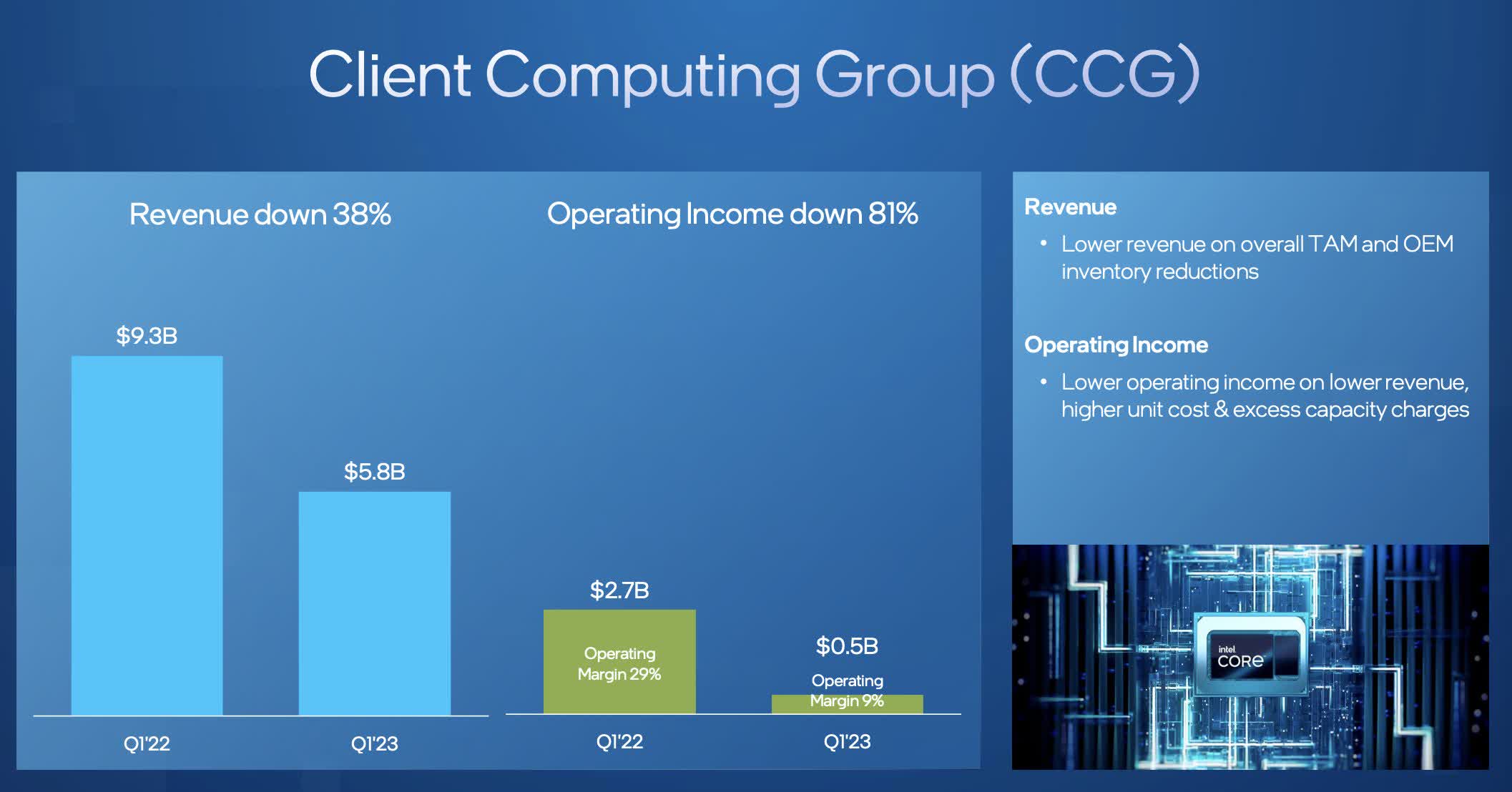 When zooming in on the latest financial report, the figures look brutal for Intel. The Client Computing Group (CCG) recorded $5.8 billion in revenue in the first three months of 2023, a sharp 28 percent decline year-over-year. Like Samsung, the Santa Clara company blames low consumer demand and inventory adjustments at OEMs for the result.
Still, CCG remains the biggest revenue driver and CEO Pat Gelsinger expressed optimism about a potential recovery in consumer and enterprise spending on PC and server processors. It's also worth noting that Intel recently reorganized its GPU division into two smaller units that are now integrated into the Client Computing Group and Data Center and AI Group, respectively.
Intel believes it can become a major player in the discrete GPU market and has laid out an aggressive roadmap for 2nd and 3rd-gen Arc GPUs, codenamed Battlemage and Celestial. So far it has only managed to capture six percent of the global market for laptop and desktop GPUs, which is a good start but not great for the bottom line. Intel fellow Tom Petersen earlier this year confirmed the company is sacrificing profit margins to grow market share, while the GPU division burned at least $3.5 billion between Q1 2021 and its recent reorganization in Q4 2022.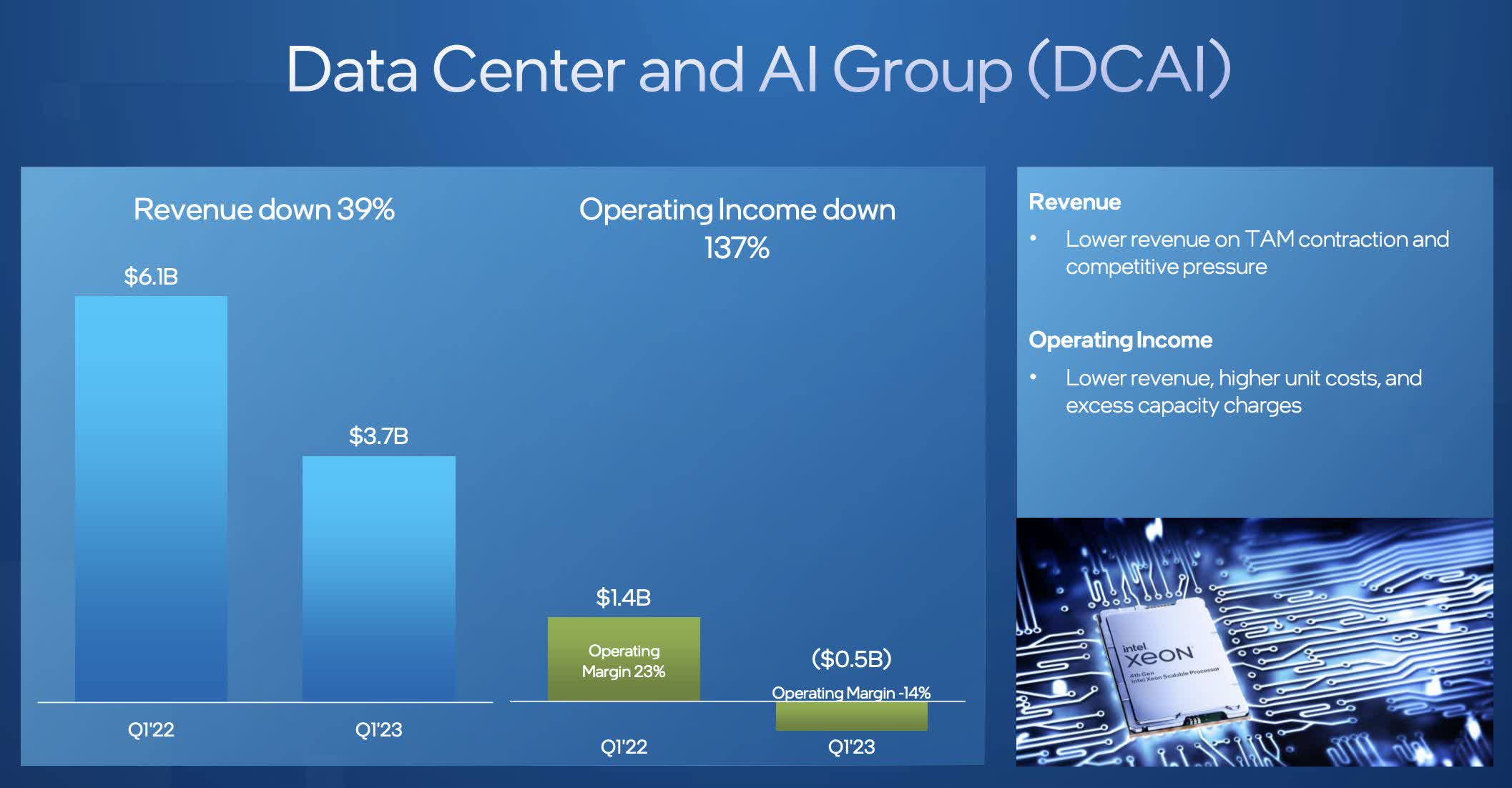 Moving on to the Data Center and AI Group (DCAI), it recorded $3.7 billion in revenue in the three months of 2023, a staggering 39 percent drop compared to the same period last year. This is an area where Gelsinger believes the worst is yet to come, and it's not hard to see why. Overall sales of x86 server chips are down, OEMs have surplus inventory, and AMD is happily chipping away at Intel's market share while Amazon, Facebook, and other tech giants are keen on embracing custom silicon based on Arm designs.
Also read: How to sell a CPU
The Network and Edge Group (NEX) fared slightly better, though it still saw a 30 percent year-over-year drop to $1.5 billion in Q1 2023. Meanwhile, Intel Foundry Services (IFS) made a meager $118 in total sales and lost $140 million, something Intel says is the result of surging costs for building new fabs. IFS is central to Intel's strategy for the next decade, as the company wants to catch up with the likes of TSMC by 2025 and become a coveted contract chip manufacturer for companies both big and small.
MobilEye – a company Intel bought in 2017 to develop self-driving tech – is the only bright spot in an otherwise gloomy financial report. It recorded revenues of $458 million in Q1 2023, which is a healthy 16 percent increase year-over-year.
During an investor call, Intel briefly noted it is currently ramping up production on Intel 4 wafers, while development on Intel 3, Intel 20A, and Intel 18A remains on track. We expect the company will launch its Meteor Lake processors in the second half of this year, and these will be the first designs to also use TSMC nodes for the GPU, SoC, and I/O tiles in addition to Intel's own process technology.