TechSpot is celebrating its 25th anniversary. TechSpot means tech analysis and advice
you can trust
.
When you buy through our links, we may earn a commission.
Learn more
.
Last month, we got our first peek at Intel's new 'Braswell' system-on-chip solutions in the form of the Pentium N3700 and Celeron N3050B. These new SoCs used the 14nm process and featured Intel's new Airmont CPU cores. When compared to the company's 22nm Silvermont microarchitecture, Braswell promised to be more efficient - though what really got our attention was the greatly improved 3D performance.
Like Braswell, Broadwell is a 14nm die shrink. Broadwell is a derivative of Haswell, which was built using the 22nm process. Naturally, moving to a smaller process results in a smaller die and lower power consumption. However, as is often the case with Intel's 'Tick' updates, a few minor tweaks have also been applied.
| | | | |
| --- | --- | --- | --- |
| Year of release | Microarchitecture | Tick or Tock | Process Node |
| 2015 | Broadwell | Tick | 14nm |
| 2013 | Haswell | Tock | 22nm |
| 2012 | Ivy Bridge | Tick | 22nm |
| 2011 | Sandy Bridge | Tock | 32nm |
| 2010 | Westmere | Tick | 32nm |
| 2008 | Nehalem | Tock | 45nm |
| 2007 | Penryn | Tick | 45nm |
| 2006 | Conroe | Tock | 65nm |
The advantage of this minor update is that it is compatible with the existing LGA1150 platform, at least when using an Intel 9-series chipset. It is also possible that Z87 motherboards may support these new processors through a BIOS update.
Our Braswell review touched on the fact that setbacks in developing the 14nm process had delayed the arrival of desktop 'Broadwell' parts, especially the high performance variants - even though the Z97 family of boards support Broadwell processors, the processors themselves have been missing so far.
Intel officially announced ten new Broadwell processors on June 2, 2015 and, at the time, handed out very limited review samples - sadly, we missed out then. We were far from the only ones, though, and getting your hands on the now month-old processor series is still next to impossible as of this writing.
Our sources indicate an early August availability - which is odd, given that Broadwell was announced two months prior. Additionally, Broadwell has already been heavily delayed, so it's surprising that Intel has gone for what appears to be an unorganized soft launch.
Whatever the case, we now know that there are almost a dozen desktop Broadwell CPUs inbound, and today we have the flagship model on hand. Of the ten new models, five are 65W desktop processors, and five are 47W laptop processors.
The New Broadwell Processors
All five desktop Broadwell models are quad-core parts featuring Intel's Iris Pro integrated graphics and the products' associated Crystal Well L4 cache (more on that in a minute).
Of the five Broadwell 65W desktop processors, only two are LGA1150 socketed parts - the rest are BGA chips soldered directly to the PCB. Unlike Haswell, both the LGA and BGA parts will feature the same integrated graphics engine.
| | | | | | |
| --- | --- | --- | --- | --- | --- |
| | i7-5775C | i7-5775R | i5-5675C | i5-5675R | i5-5575R |
| Base Frequency | 3.3GHz | 3.3GHz | 3.1GHz | 3.1GHz | 2.8GHz |
| Turbo Frequency | 3.7GHz | 3.8GHz | 3.6GHz | 3.6GHz | 3.3GHz |
| Cores | 4 | 4 | 4 | 4 | 4 |
| Threads | 8 | 8 | 4 | 4 | 4 |
| Graphics | Iris Pro 6200 | Iris Pro 6200 | Iris Pro 6200 | Iris Pro 6200 | Iris Pro 6200 |
| EUs | 48 | 48 | 48 | 48 | 48 |
| Graphics Frequency | 1150MHz | 1150MHz | 1100MHz | 1100MHz | 1050MHz |
| DRAM Frequency | 1600MHz | 1600MHz | 1600MHz | 1600MHz | 1600MHz |
| L3 Cache | 6MB | 6MB | 4MB | 4MB | 4MB |
| L4 Cache (eDRAM) | 128MB | 128MB | 128MB | 128MB | 128MB |
| Interface | LGA | BGA | LGA | BGA | BGA |
| Price | $366 | $348 | $276 | $265 | $244 |
If we look at the Core i7-5775C, which we have on hand today, and the BGA version (i7-5775R), both chips are almost identical. Other than the fact that the Core i7-5775R is a BGA part, the only other difference is the Turbo frequency which is just 100MHz higher at 3.8GHz. Moving past the specifications, another difference is the price. Whereas the Core i7-5775C features a $366 MSRP the 5775R costs slightly less at $348.
The two desktop processors that will likely interest our readers the most are the Core i7-5775C and the Core i5-5675C. The Core i5-5675C is 25% cheaper but forgoes HyperThreading support, reducing the thread count from 8 to 4. The base frequency has also been reduced by 200MHz, though just 100MHz separates the Turbo frequencies. Another big change is the amount of L3 cache which has been reduced from 6MB to 4MB.
It is worth noting that the Haswell Core i7 parts feature a larger 8MB L3 cache, while the Core i5 processor received a 6MB L3 cache. It is also worth pointing out that the Core i7-5775C and i5-5675C are both unlocked parts, despite not bearing the traditional 'K' designation.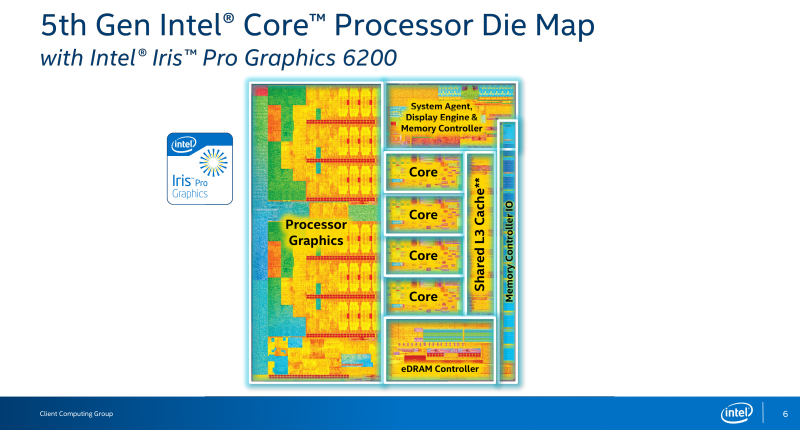 It is especially interesting that the massive L4 Cache has its own codename - 'Crystal Well'. Crystal Well is a 128MB eDRAM which was first seen in the Haswell processors featuring the Iris Pro Graphics 5200, predominantly mobile processors.
The problem all integrated graphics face is bandwidth - they don't have nearly enough of it. Consider an ultra-low budget discrete graphics card such as the Radeon R7 250 for example, which has a memory bandwidth of 73.6GB/s. In comparison, the Intel HD Graphics 4600 of the Core i7-4790K when coupled with DDR3-1600 memory features a measly theoretical peak bandwidth of just 25.6GB/s, roughly a third of the discrete card.
Since the eDRAM operates at 1.8GHz on these Broadwell processors, it affords them an extra bi-directional throughput of over 57GB/s (114GB/s aggregate). Better still, the large L4 cache isn't exclusive to the graphics engine, the CPU can also access this cache. When a discrete GPU is used, the eDRAM will focus on caching CPU requests, effectively giving Broadwell desktop processors a massive 128MB L4 cache.
Along with the much faster eDRAM cache, Intel has beefed up the Iris Pro 6200 (GT3e) graphics engine to include 48 EUs clocked at 1150MHz, opposed to the 20 EUs used by the HD Graphics 4600. This means peak gigaflops now sit at 883 GFLOPS for the i7-5775C and 844 GFLOPS for the 5675C, opposed to just 400 GFLOPS for the i7-4790K.