AMD A75 3-way Motherboard Shootout
By
TechSpot is celebrating its 25th anniversary. TechSpot means tech analysis and advice
you can trust
.
When you buy through our links, we may earn a commission.
Learn more
.
AMD's integrated graphics received a new lease on life when the company unleashed its 32nm "Llano" desktop processors earlier this year. Sporting an on-die Radeon HD 6550D graphics processor, the AMD A8-3850 APU rendered many low-end discrete graphics cards obsolete and made Intel's HD Graphics 3000 engine look foolish in the process.
Despite losing its L3 cache completely, AMD's A8, A6 and even the upcoming A4-Series APUs feature a brawnier L2 cache to compensate. Whereas the Phenom II range is equipped with a massive 6MB L3 cache, each core is only supported by 512KB of L2 cache. Discarding the complex and power hungry L3 cache allowed AMD to double the L2 cache capacity per core.
As a result, the quad-core A8-3850 received a 4MB L2 cache which significantly boosted performance compared to a similarly clocked Athlon II processor. With improved general processing and graphics power, the Llano range represents exceptional value as the A8-3850 costs a mere $140, while the A6-3650 can be had for $120 as of writing.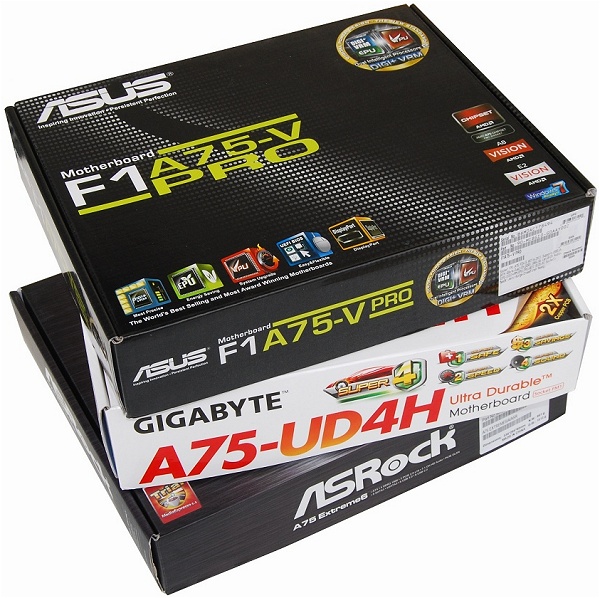 In addition, the Llano platform offers a plethora of affordable AMD A55 and A75 motherboards. A75 products are particularly appealing as they boast of extensive support for USB 3.0 and SATA 6Gb/s (up to four and six ports, respectively). By comparison, Intel's H67/P67/Z68 only support two SATA 6Gb/s ports and no USB 3.0.
Although AMD A75 boards start at around $70, we've decided to check out three more attractive, and inherently pricier options. Some of the best-equipped A75 motherboards include the Asrock A75 Extreme6 ($130), Asus F1A75-V Pro ($130) and Gigabyte A75-UD4H ($123). Currently, the Asus F1A75-V Evo is the most expensive A75 board at $140.
At that price, AMD is clearly targeting – and in our opinion, commanding – the budget market. The underdog's new flagship desktop platform can be had for $300 or less, and when factor in 4GB of RAM ($25), a 1TB hard drive ($55), and a decent case/power supply combo ($55), you have the making of an entry-level gaming computer for roughly $500.
Although a rig like that won't shatter any benchmarks, but you'll have complete flexibility to add 6Gb/s SSDs, USB 3.0 devices and multiple high-end GPUs as you desire. The Llano platform is an excellent way for budget gamers to get their foot in the door with room to expand in the future. With that in mind, let's carry on with our look at three of the platform's finest...