Posts: 9,351 +119
Staff member
What just happened? It appears the recent rumors that Lenovo is working on a handheld PC called the Legion Go were accurate. New images of the upcoming machine have been revealed, showing it has a design similar to the Nintendo Switch, complete with detachable controllers, with some elements from the Steam Deck.
Last month saw a report from Windows Central claiming that Lenovo was preparing to launch the Legion Go, a handheld gaming PC that will come with Windows 11 - much like the Asus ROG Ally - an AMD chip, and an 8-inch screen.
There were no images of the Legion Go, though it was speculated that it would resemble the Lenovo Legion Play, an Android cloud gaming handheld that never received a full release.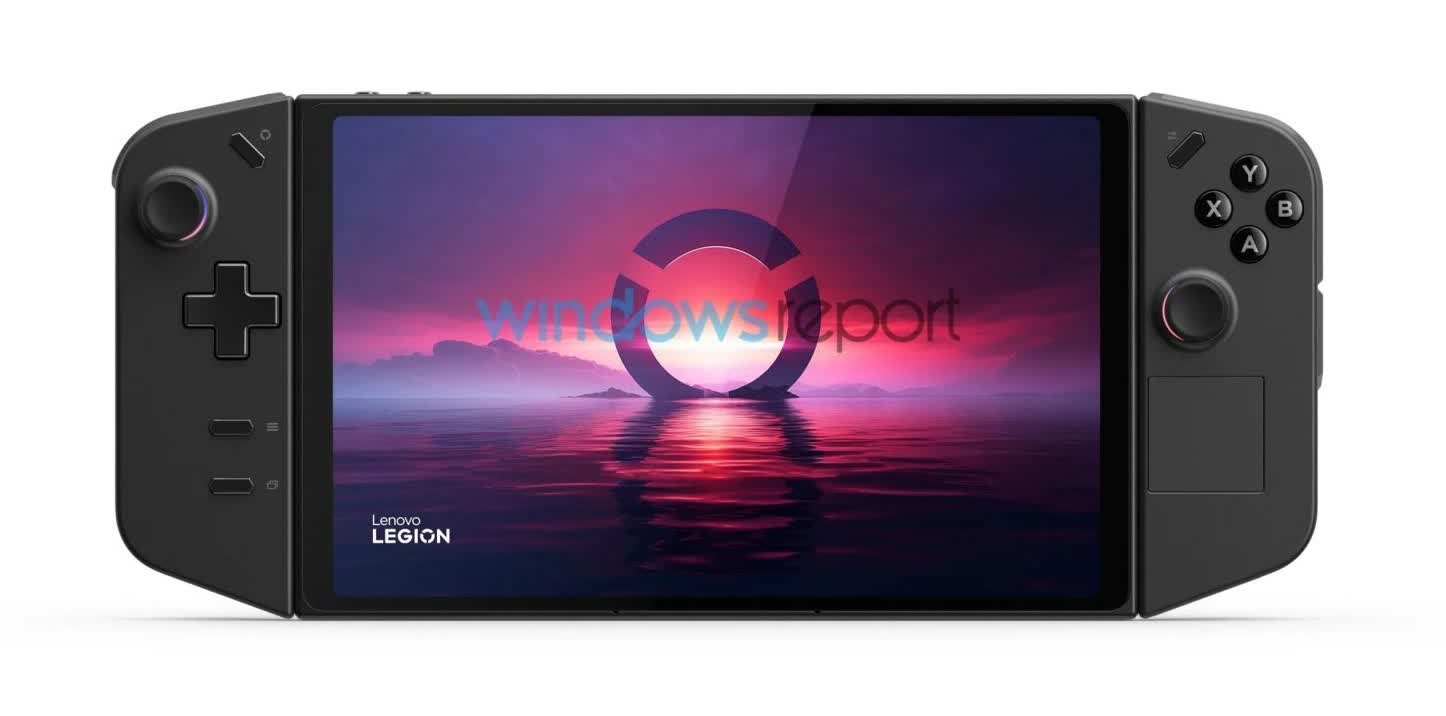 Now, WindowsReport has published what appear to be the first images of the Legion Go. Its inclusion of both a mini trackpad (on the right controller) and two removable controllers makes it look like a combination of the Steam Deck and Nintendo Switch. It also has a stand so it can be played in tabletop mode - again, like the Switch. Imitating Nintendo's incredibly popular hybrid might be risky, given the company's litigious nature.
Some other interesting features include a wheel on the same controller sporting the trackpad, shoulder buttons, and triggers on both the back and sides.
Like the Asus ROG Ally and several other handhelds, the Legion Go is said to be powered by one of AMD's Phoenix chips, probably the Ryzen 7 7840U.
The Legion Go's 8-inch screen could make it a compelling prospect for handheld gamers. The display is an inch bigger than those in the Steam Deck and ROG Ally, and the trackpad should give it an advantage over Asus' device.
No word on the launch date or price for the Legion Go. Gamescom takes place later this month, while IFA starts around the first week of September. Don't be surprised if Lenovo gives the handheld its official unveiling at one of these events.
https://www.techspot.com/news/99823-first-images-lenovo-legion-go-handheld-pc-show.html