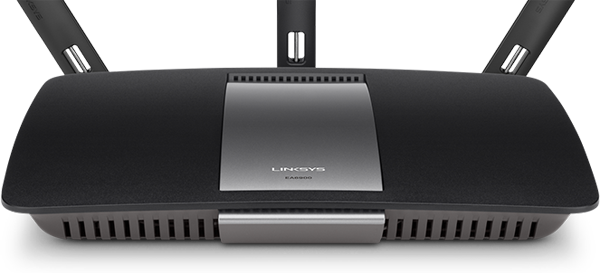 Linksys EA6350 AC1200+ Dual-Band Smart Wi-Fi Wireless Router Firmware 3.0.0.4.380.9474
Delivers AC speeds of up to N300 + AC867 Mbps and features Gigabit ports for a supercharged wired connection and USB 3.0.
Smooth Video Streaming and Sharing with Fast Connection Speeds
The AC1200+ features dual wireless bands (2.4 GHz and 5 GHz) with data speeds up to N300 Mbps + AC867 Mbps*, great for media-intense applications such as video streaming and online gaming.
Beamforming Technology Helps Eliminate Dead Spots
Beamforming focuses the Wi-Fi signal directly to your smartphones, tablets, and laptops instead of sending out a general transmission. Plus, two external antennas help strengthen the signal. The result is a more efficient network with a wider range.
When your device doesn't have to work as hard to receive data, it means not only greater efficiency for you, but also a longer battery life for your connected devices.
Linksys Smart Wi-Fi
Linksys Smart Wi-Fi lets you access your network anytime, anywhere. Using your browser or the Smart Wi-Fi mobile app, you can:
Prioritize devices or websites for video streaming and online gaming
Control inappropriate or distracting content
Monitor network activity and speed
Turn Wi-Fi access on or off for any connected device
Create a separate, password-protected guest network
For even greater control, download one of the many Wi-Fi management apps compatible with your Smart Wi-Fi router. Create
What's New:
Security Fixes:
Fixed CVE-2017-5891.
Fixed CVE-2017-5892.
Fixed CVE-2017-6547.
Fixed CVE-2017-6549.
Fixed CVE-2017-6548.
Added log message for brute force attack.
Bug Fixes:
Fixed bandwidth limiter bugs.
Fixed UI issue when using Chrome 56.
Fixed MAC clone bug when using https connection.
Fixed IPv6 passthrough bug.
The hardware version is located beside or beneath the model number and is labeled version, ver. or V. If there is no version number beside the model number on your Linksys product, the device is version 1. If you still have trouble finding your version number, see the complete article to learn more.
Previous versions:
Linksys EA6350 AC1200+ Dual-Band Smart Wi-Fi Wireless Router Firmware 2.1.1 Hardware version 2.0