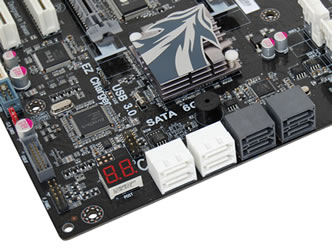 Chipset delays aside, Sandy Bridge has been one of the most anticipated and impressive releases we've seen from Intel in recent years. The first wave of processors have demonstrated superior efficiency as they swept aside considerably more expensive processors of previous generations, while consuming even less power. The Core i5 2500K and Core i7 2600K models have also delivered effortless overclocking potential without going for excessive price premiums.

For those building a new high-end rig from the ground up, the LGA1155 platform looks like the way to go and there are already quite a few exciting new P67 motherboards to choose from. Read on as we check out the Asrock P67 Extreme6 ($210), Asus P8P67 Deluxe ($240), ECS P67H2-A2 ($195), Gigabyte P67A-UD7 ($330) and MSI P67A-GD55 ($160).

Read the complete review.