Cambridge DTT2500 5.1 speakers review
Posted by Thomas McGuire on May 10, 2000 - Page 4/4
Company: Cambridge Soundworks Product:

Desktop Theater 5.1 Digital
Sound Quality
I decided to play a few audio CD's with the Digital Amplifier set to Music mode as recommended. Sound is perfectly clear, as you'd expect & I could enable the Digital output only options offered by Surround Mixer too.
Games - As expected the sounds were very "clean" & in fact the greatest improvement was with the subwoofer. Playing Soldier of Fortune, using a shotgun tended to rattle some of the items on my desk. As you can guess having an explosion go off in your face is quite unnerving. It does somewhat bring your more into the game though.
While my previous FPS1000 speakers had a subwoofer too, this one is a lot better in my opinion.
DVD - Just like being in the cinema really. There's not really too much to say about it other than the Dolby Surround is stunning. Obviously you need a DVD drive & movies to use this, but if you don't you would be going for the FPS2000 speakers wouldn't you.
Conclusion
Brilliant. For the user that wants the best, these are the best speakers I have every heard/used (too bad I haven't tested the Klipsch Promedia or Sirocco Crossfire for comparison). The DTT2500 is a must for everyone who owns a Creative card, as these were designed specifically with these in mind, particularly the Live! Range of cards. The digital sound is, as you would expect perfectly clear & distortion free, not to mention that the speakers look very nice as well.
The Digital amplifier itself offers a nice range of features & connectors for both digital & analog connections. The sound is great in everything from CD audio to DVD films to games.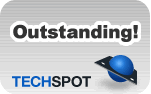 3D Spotlight review score:
9/10
Company: Cambridge Soundworks Product: Desktop Theater 5.1 Digital