TechSpot is celebrating its 25th anniversary. TechSpot means tech analysis and advice
you can trust
.
When you buy through our links, we may earn a commission.
Learn more
.
Our picks for the top gaming monitors is the result of extensive testing and reviewing of numerous models. In this guide, we'll share all that we've learned and discuss the latest models we've tested, including new OLED monitors that are worth including here. Our aim is to provide you with comprehensive advice on gaming monitor shopping across various categories including 1080p, 1440p, 4K, ultrawide and HDR gaming monitors, with several recommendations in each category.
As discussed before, we tend to discuss and recommend only the monitors we've tested and know to be good, or monitors that are very similar to products we have tested (using the same panels). It's always worth going back and checking out the dedicated monitor reviews we produce for more in-depth thoughts on each, but most importantly the recommendations below are the byproduct of our testing results and research.
We've categorized monitors into five main sections as shown below. Within each category, we have a few key recommendations based on the desired refresh rate, display size, and budget considerations. There are lots of options to choose from and is also worth mentioning we have dedicated buying guides for the best 1440p gaming, HDR and content creation/productivity monitors.
Best Budget 1440p
The 1440p monitor market continues to evolve rapidly, and we believe it's currently more challenging than ever to recommend products in this category due to the sheer number of options available. Let's begin with the budget 1440p category, which currently comprises medium refresh rate monitors within the 144-180Hz range.
You should spending no more than $350 on a 1440p 165Hz-ish gaming monitor, as you start encroaching upon the territory of other products with superior specifications. Interestingly, most 1440p value-for-money monitors are priced below $350, so we advise you to immediately disregard any options exceeding this threshold.
In the budget class, we usually recommend 27-inch 1440p IPS monitors because we believe they deliver superior performance. Identifying a specific model can be somewhat challenging, as there are many excellent options offering good value for money, with varying performance in different areas. Currently, we suggest looking at the LG 27GL850, LG 27GL83A, and Gigabyte M27Q, all priced around $270 to $300.
The LG27GL850 stands out as the best value with fast response times, great resolution, decent color performance, an acceptable contrast ratio, and priced at just $270. The 27GL83A is also similar from a hardware standpoint, currently priced at $300 but we've seen it go as low as $260, another excellent buy. The Gigabyte M27Q may not be as impressive in our opinion, but it still offers reasonable value depending on exact pricing and desired features.
For an upgrade pick, there are numerous products to consider. When looking to spend over $300, we'd expect either upgraded colors or improved motion performance. Our recommendations thus lie in these areas. The MSI G274QPF-QD is a reasonable choice here, priced at $330 it offers performance similar to the 27GL850, but a better contrast ratio and much wider color gamut thanks to the use of quantum dots.
The MSI MAG274QRF-QD takes it a step further at $350 with enhanced response times and quantum dot tech, making it a very tempting choice and our top pick. The Gigabyte M27Q-P also occasionally fits in here, though it seems difficult to find these days.
Best Value 1440p
If you're after a faster 1440p 240Hz monitor, we've previously recommended products like the Gigabyte M27Q-X at $400, which has been an excellent value purchase. Unfortunately, the M27Q-X has been out of stock for several months, hinting at a possible discontinuation, which would be disappointing as it's a fantastic product.
Given the offerings of the M27Q-X, we find it tough to recommend spending $200 more on similar hardware; at this point, we'd advise you to either wait for new 1440p high refresh rate options, wait for the M27Q-X to reappear, or at a pinch, opt for the Samsung Odyssey G7. While it is priced at $500, it's a fast 27-inch 1440p 240Hz VA monitor with an excellent contrast ratio, curved display, exceptional motion performance, and it's come down in price since launch, which puts it in a tempting price category.
Best Overall 1440p
Moving further into the 1440p category, we reach the ultimate, best monitors you can buy. However, there's a substantial price gap between the best of the best and the best value products. Usually, we wouldn't recommend spending much over $500 on a 1440p monitor these days, but if you want the absolute best, including true HDR capabilities, these sorts of products are priced around $1,000, marking a significant step up.
But the improved visuals and performance are well worth the investment. Our current recommendation for high-end buyers is the Asus ROG Swift PG27AQDM, a 27-inch 1440p 240Hz OLED display. This product delivers motion clarity surpassing most LCD monitors, getting very close to 360Hz offerings. Even if you're not particularly interested in HDR gaming, the PG27AQDM is an excellent product for competitive multiplayer gamers due to its speed and high refresh rate, and it gets even better if you play a variety of games that include both multiplayer and single-player options.
This is due to the impressive HDR capabilities of this OLED. Deep zero-level blacks, per-pixel local dimming, and good levels of brightness result in a stunning HDR gaming experience. There are a few downsides such as weak text clarity and the risk of permanent burn-in, meaning it's not the best display for productivity, but for 1440p gaming, few products match its quality.
Also worth considering for ultimate motion clarity at 1440p is the Asus ROG Swift PG27AQN, which features a 1440p 360Hz IPS LCD panel. This display slightly outperforms the OLED in motion while also delivering better input latency due to its higher refresh rate. It's a well-calibrated, good-looking display, but its high price tag of $1050 may deter some buyers. It's definitely worth considering, though for most people, we'd recommend the PG27AQDM instead.
Best 4K 27-inch
In 2023, we think it's time to start considering a 4K monitor for gaming more seriously, especially as prices continue to be quite reasonable for high refresh rate options. With the abundance of scaling options in modern games and the desktop and productivity advantages of 4K resolution, there's no better time to jump into the ecosystem than now.
While researching for this guide, a few clear standouts became apparent in this category. The first of these is the LG 27GN950, currently available for just $550. This is the older version of the 27GP950 that we've occasionally recommended, and while it lacks more modern features like HDMI 2.1, for PC-specific gamers that don't require this feature, the 27GN950 is a fantastic buy at this price. It boasts decent response times, good levels of brightness, and excellent DCI-P3 color space coverage. Plus, thanks to a firmware update, it can now hit 160Hz, making it well suited to modern gaming.
Before we had recommended the LG 27GP950, however with the prior model now available for less than $600, the 27GN950 becomes our top choice, given its similar performance to the GP950. This also makes it harder to justify any non-HDR 4K monitors above $700, as the primary differentiating factor was previously the LG Nano IPS panel versus the Innolux panel used in cheaper alternatives.
Speaking of more affordable alternatives, several other options are still worth considering. The Gigabyte M28U, around $550, remains a fantastic buy, offering HDMI 2.1 functionality that the LG monitor lacks, as well as similar response time performance. While it doesn't match the LG in terms of color gamut coverage, as a 28-inch 4K 144Hz IPS, it should definitely be on shoppers' radars.
Several monitors are very similar to this Gigabyte model, although they tend to be more expensive. Products like the Asus TUF Gaming VG28UQL1A, MSI Optix MAG281URF, and Samsung Odyssey G7 S28 are all great purchases, too, if you can find them for $600 or less. Anything more than that, and you might as well opt for the Gigabyte option or the most affordable alternative.
The Gigabyte M27U has also caught our eye recently, as it's currently priced at just $530 while offering a 27-inch 4K 160Hz IPS panel. We've yet to test this monitor but plan to do so early next month.
Best 4K 32-inch
When considering 4K, it's also important to think about whether a larger screen size might be beneficial, as 4K looks excellent at 32 inches. Typically, you'll need to spend an additional $100 to $200 to upgrade in size, a factor worth incorporating into your buying decision. In this category, we'd recommend the Gigabyte M32U, which offers excellent value at $680.
While it's not exceptional in either color or motion performance, we think most users will be satisfied with what it offers. More expensive monitors like the MSI Optix MPG321UR-QD do offer a wider color gamut but at a higher price tag, around $900. For the majority of gamers, we believe the M32U is a great choice for $680.
Best Overall 4K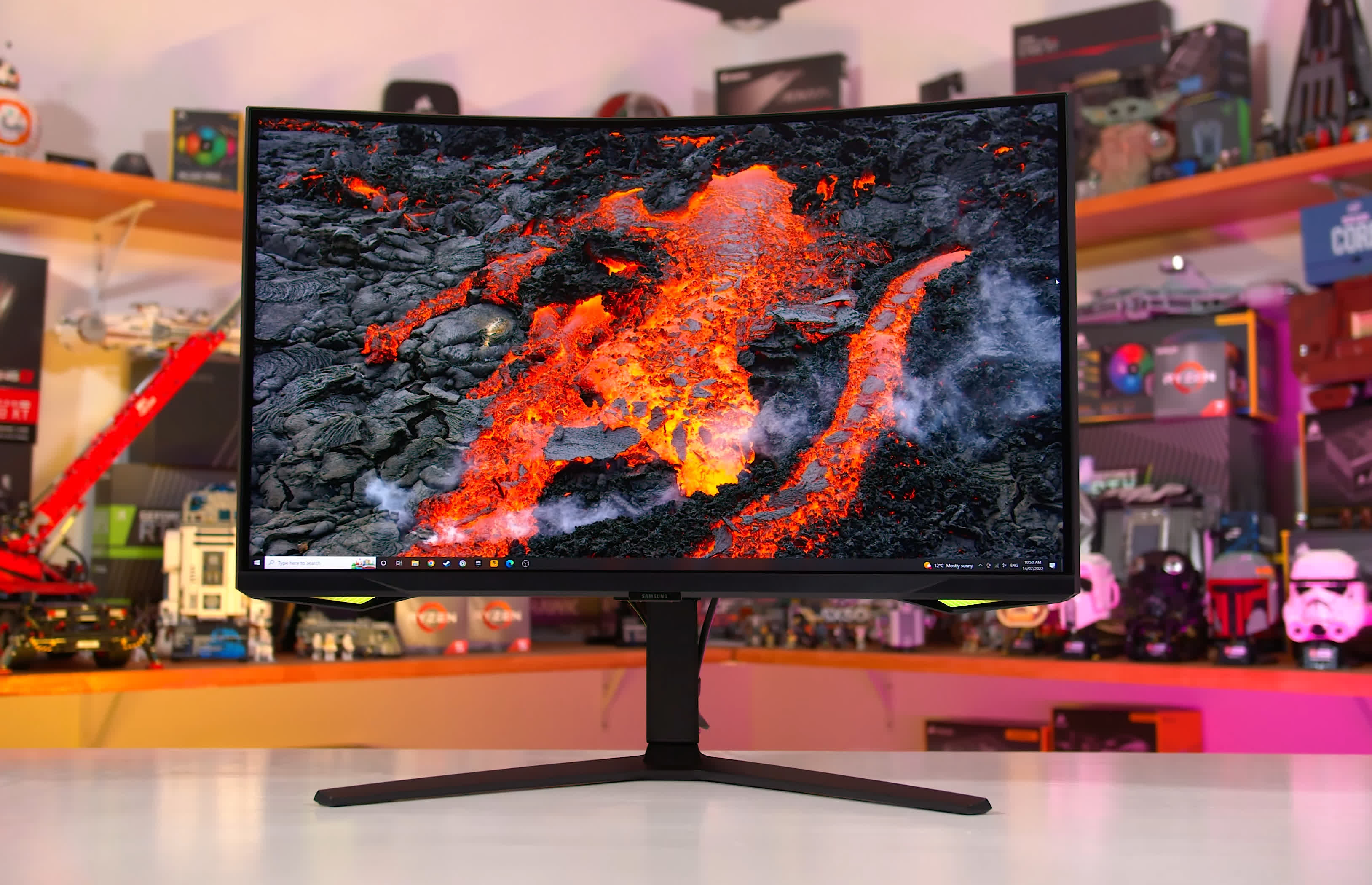 For the ultimate 4K monitor, we believe HDR options must be considered, with several choices available. Real HDR comes at a several hundred dollar premium, but in some instances, this is definitely worth it for the visual upgrade, especially for those after the very best.
The two best options right now for 4K buyers seeking a premium monitor are the Samsung Odyssey Neo G7 and the LG C2 42-inch OLED. These products are distinct, but both offer true HDR hardware and are great purchases depending on your needs.
The Odyssey Neo G7 is the more straightforward choice. It's a 32-inch 4K 165Hz VA LCD priced at $1,000 currently. Its most compelling feature is the 1,196-zone full array local dimming backlight, which delivers fantastic HDR visuals, including deep blacks, excellent shadow detail, and bright highlights, all simultaneously. In addition, you're getting elite VA LCD speed with Samsung's excellent tuning. While the panel's curve might be a drawback for productivity work, the HDR gaming experience it offers is next-level.
The LG C2 OLED is also a great choice, currently available for $900 in its 42-inch size, which is cheaper than some alternatives using the same panel, like the Asus PG42UQ. As an OLED, it offers per-pixel local dimming, delivering an unbeatable HDR experience with excellent deep blacks and solid brightness levels. It's also extremely fast in terms of response times, though limited to a degree by its 120Hz refresh rate.
The C2 is a large display, so it may not fit into a standard gaming setup, and it has some OLED-related limitations like the risk of burn-in. However, if you're looking for an exceptional 4K gaming display with proper HDR capabilities, the C2 is one to watch, especially as it's now priced below $1000.
Best HDR Monitors
When purchasing an HDR monitor, the usual caveats apply when researching the range of HDR options available. Exercise caution with products that advertise HDR without actually offering any genuine HDR capabilities. These monitors (often advertised as DisplayHDR 400) simply aren't worth buying or considering in any regard.
However, if you're interested in a true HDR product, there are some excellent options on the market these days. While they can be quite expensive, the experience they offer is outstanding. To determine which HDR monitor is best for you, we'd recommend first deciding between a regular 16:9 format or an ultrawide, then considering screen resolution and display technology.
If you're after a standard 16:9 monitor, the choice, in our opinion, is between three options: the Asus ROG Swift PG27AQDM, the Samsung Odyssey Neo G7, and the LG C2 OLED TV in a 42-inch size. Each offers something different, and the right one for you may come down to factors such as size, resolution, and format.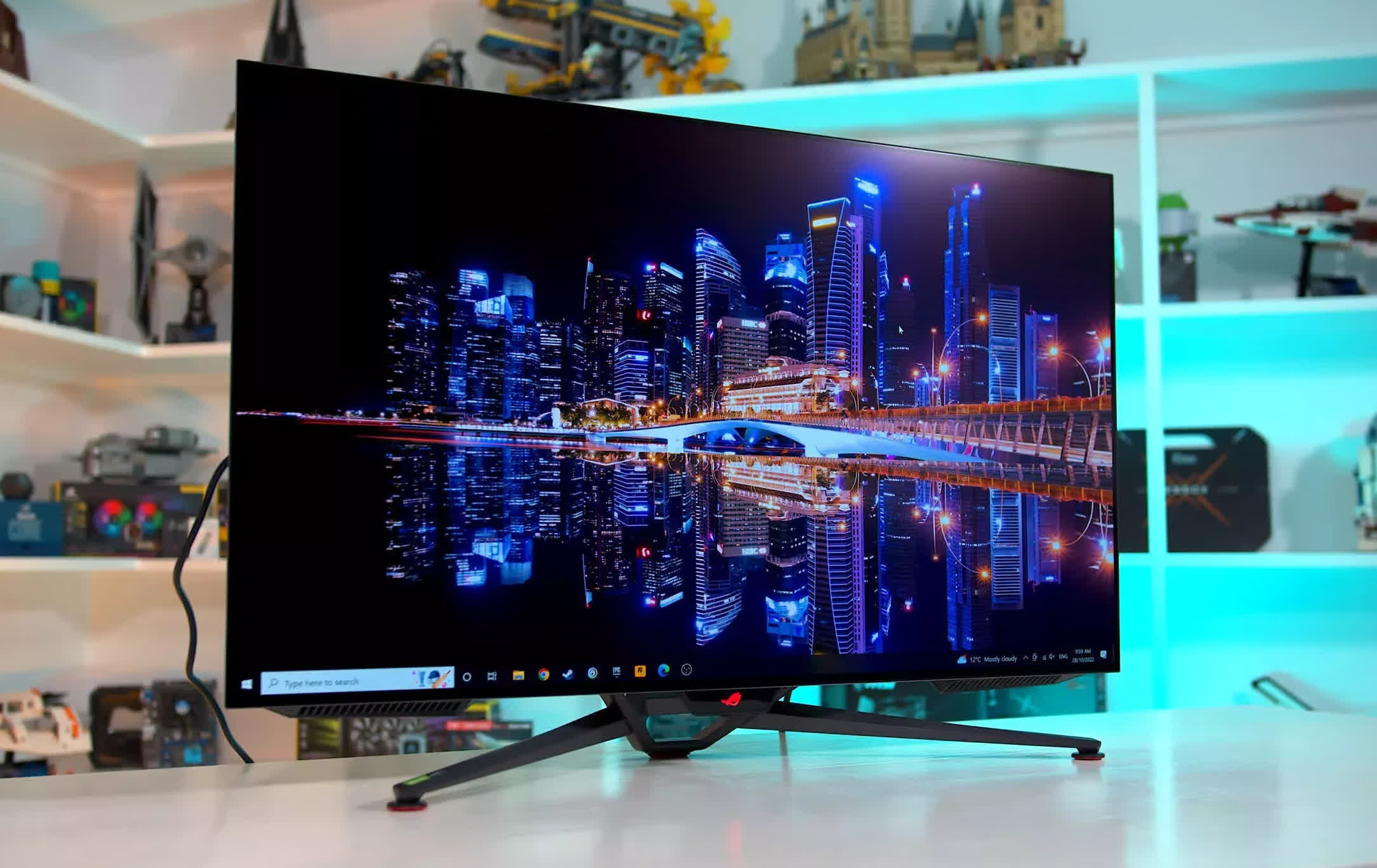 The top pick among these, in our opinion, is the Asus ROG Swift PG27AQDM. As we discussed earlier, this is a 27-inch 1440p 240Hz OLED with excellent motion clarity and elite HDR performance. It's a highly versatile product that's well suited to both competitive multiplayer gaming and visually stunning single-player experiences, thanks to its potent combination of features and performance. It's bright, particularly for a WOLED panel, vibrant, fast, and responsive. It's difficult to go wrong with this choice, although the drawbacks for OLED like burn-in and subpixel layout might limit this monitor's usability for desktop work.
If you're interested in a larger or higher resolution display, the next step up is the Samsung Odyssey Neo G7, which offers a 32-inch 4K 165Hz VA LCD experience with 1196 full array local dimming zones. This is an excellent monitor that doesn't suffer from some of the drawbacks of the Asus OLED, such as burn-in or subpixel layout, making it more suited to desktop applications and productivity work.
This is somewhat limited by the curved nature of this monitor, but it's also a larger screen with a 4K resolution, and there are benefits for gaming as well. The mini-LED backlight provides great HDR performance, not quite as good as the OLED but certainly very impressive, and Samsung has finely tuned this VA panel for motion performance. We'd choose this over the 240Hz version, the Neo G8, as that monitor has a few dealbreaker flaws. Overall, the Neo G7 is an excellent option if you want a larger LCD.
If neither of these two sounds like the perfect choice, you can go even larger with the LG C2 OLED in a 42-inch size, currently available for the low price of just $900. While we believe this is a great screen, its lower 120Hz refresh rate and weaker brightness compared to the PG27AQDM make it not quite as optimal for gaming. However, it is much larger and boasts a higher 4K resolution, along with full smart TV functionality, as it is indeed a TV. Thus, this could be a great choice depending on your needs.
Best HDR Ultrawide
If you're interested in going down the ultrawide path and feel that format is right for you, you've made a great decision. In our opinion, the QD-OLED ultrawides are some of the best HDR gaming screens available today. We also personally appreciate the 21:9 format for its superior immersion compared to standard 16:9 monitors, although it's not for everyone.
The ultrawide category presents a distinct divide between the top and bottom ends of the market. In our opinion, if you're considering an ultrawide, you should either splurge on a QD-OLED for over $1000, or go for a budget option and spend around $400. Anything between these prices usually isn't worth buying, as it offers only a minor upgrade on our value picks, or a significant downgrade on the top options.
For high-end shoppers, it's quite clear that the ultrawide market is dominated by QD-OLED monitors, with many to choose from. All offer a 34-inch 3440 x 1440 QD-OLED panel at up to 175Hz. Of these options, two stand out in my opinion, and your budget will determine which makes sense for you. For around $1,000, you can purchase the Alienware AW3423DWF, while for $1300, you can get the Samsung Odyssey OLED G8, which is the superior monitor in our opinion.
On the spec sheet, the OLED G8 is superior with a 175Hz refresh rate instead of 165Hz that you get with the AW3423DWF, though this is a minor difference that isn't worth considering really. Both feature the same panel, so the fundamental aspects of performance such as excellent HDR capabilities, zero-level blacks, per pixel local dimming, and high 1000 nits of peak brightness remain the same whether you go with Dell or Samsung.
What separates the two is Samsung's superior HDR tuning and better ability to hit 1000 nits without image quality reduction, as well as a greater range of color calibration options, thanks to the OLED G8's use of a smart TV processor. It's also a better-looking monitor with no active cooling, and therefore silent operation. If you want the best of the best, and have an Nvidia GPU which works best with this display, the OLED G8 is my recommendation.
However, if you want to save $300, which is a considerable saving, and are comfortable with reduced HDR performance and fewer features, the AW3423DWF is also an excellent choice. You're still getting a decent HDR experience for gaming, it just isn't as good as the G8 and isn't as well calibrated in its 1000 nit mode. If you haven't experienced HDR gaming before, we're sure the AW3423DWF will impress you greatly, especially if you apply some of the tweaks mentioned in our firmware update review.
Like many OLED monitors, we wouldn't recommend these for productivity work, mostly due to the risk of permanent burn-in, as well as some minor concerns around text quality. These QD-OLED monitors also have poor screen coatings that require optimal placement of lights in your room to reduce reflections. This is something to keep in mind.
Budget Ultrawide
Not everyone has $1,000 to spend, so if HDR isn't what you're after and you just want an affordable, regular ultrawide, we'd recommend the Gigabyte M34WQ. It's a bit unusual being a flat 34-inch 3440 x 1440 144Hz IPS display, but what it offers at just $400 is an excellent balance of performance across various areas we test and look for.
Response times are good, color performance is good, and there are no major negatives such as dark level smearing that you do get with most budget VA ultrawides at a similar price. Honestly, VA isn't that much cheaper these days, so I can't recommend a VA ultrawide right now.
This isn't to say there are no downsides here: the contrast ratio is very weak compared to its VA competitors, and response times aren't as fast as premium IPS gaming ultrawides. But the versatility of its IPS panel and general balance of performance is what swings me towards this product compared to others on the market.
Best Value 1080p
In the 1080p product class, we believe it's quite a straightforward scenario these days. Either you're seeking an entry-level monitor to embark on PC gaming, and we still deem 1080p a suitable choice if your budget is less than $200, or you're interested in a super high refresh rate option for competitive gaming, prioritizing features like backlight strobing and swift response times.
There's only been one minor update to our recommendations in the 1080p space: replacing the older AOC 24G2 with its updated version, the 24G2SP. This display offers excellent value for money at just $160 and matches the quality of the 24G2 but with a marginally higher 165Hz refresh rate instead of 144Hz. It maintains the 24-inch 1080p IPS panel and other performance features. However, it can sometimes be overpriced at around $200, so we suggest watching for sales that bring it back to a more realistic $160 price point.
The 24G2SP is a solid choice, offering superb response time performance in its class, solid color quality, and useful features like a height-adjustable stand, which you don't always get at this price point. The overall package that AOC offers strikes a nice balance between gaming performance and image quality, so we're comfortable continuing to recommend it. The main drawbacks are that it doesn't excel in any specific area: it's not the highest resolution or the highest refresh rate and it's not the best-performing display. However, its well-balanced performance makes these issues less significant, especially at the $160 price point. We'd also consider products like the Gigabyte G24F and MSI G274 around this price, but we haven't tested them, making it harder to recommend them.
Some might question the rationale behind purchasing a 1080p monitor in 2023, but the straightforward answer here is that 1440p monitors haven't become affordable enough yet. For most gamers, we would suggest opting for one of our 1440p selections instead, but if your budget doesn't extend to $250, then choosing 1080p is your best option – and the 24G2SP provides excellent value here.
Best 1080p for Esports
If you're seeking a premium monitor for esports gaming, the best choice is the BenQ XL2566K, which we recently tested and strongly recommend for hardcore or professional competitive multiplayer gamers. It's a 24.5-inch 1080p 360Hz TN panel with elite backlight strobing thanks to BenQ's DyAc+ technology. This is the clearest monitor in motion that we've ever used; it outperforms 240Hz OLEDs and the PG27AQN quite comfortably when the backlight strobing mode is enabled, giving that competitive edge to serious gamers.
However, this is quite a niche product as BenQ has priced it at a hefty $600, which is quite steep for a 1080p monitor and is only advisable for serious competitive gamers to purchase. For everyday, more casual gamers, there's much more value to be had in buying a $600 4K monitor or an elite 1440p display, especially as the TN panel used here doesn't deliver very good color performance or viewing angles. But if motion clarity is your number one priority, the XL2566K really excels in that area and may be worth buying for some people.