TechSpot is celebrating its 25th anniversary. TechSpot means tech analysis and advice
you can trust
.
When you buy through our links, we may earn a commission.
Learn more
.
Instant messaging is an increasingly competitive market and despite your best efforts to keep it simple and use a single app or platform, it's hard to avoid keeping two or three apps around to keep in touch with different groups of people. In any given day I get hundreds of notifications from HipChat, WhatsApp, Telegram, Skype, and my business' Facebook Page.
While most of these clients are mobile-first nowadays, thankfully for my sake all offer some form of desktop counterpart --- either a full blown native client or a web based one --- so I can reply faster and more comfortably using an actual keyboard. However that doesn't make switching between different app windows and browser tabs throughout the day any less annoying.
If this sounds familiar, there are a handful of all in one messaging clients that can save you the trouble by keeping all your chats under one roof, and best of all they are cross-platform. The concept isn't new --- remember Trillian, anyone? --- but updated for today's mobile messaging world.
I'll tell you right away all three options we're covering today work similarly as they are essentially wrappers for the web versions of all the supported messaging apps. But Franz is still my favorite of the bunch. It feels polished, fast and is presented in a clean, no-frills interface.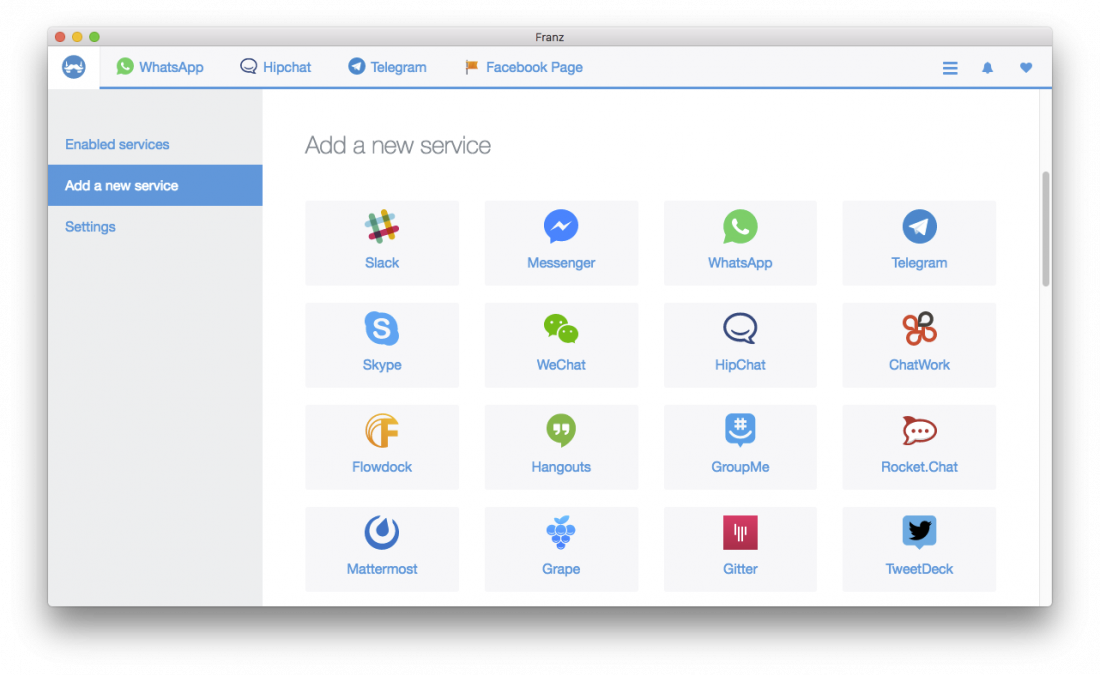 It covers a wide range of services, among them Facebook Messenger, WhatsApp, Slack, Telegram, WeChat, Skype, HipChat, Google Hangouts, GroupMe, Steam Chat, and more. As of writing there are 34 different services in total and development is active so new ones are added regularly. The latest update introduced support for email (Gmail, Inbox by Gmail, and Outlook), Twitter's TweetDeck client and custom HipChat servers for companies that prefer self-hosted solutions.
Moreover, Franz allows you to add each service many times, which is useful if you manage multiple business and private accounts at the same time. It's available for Windows, Mac and Linux.
Rambox is an open source alternative to Franz that works pretty much the same but covers a lot more services --- 74 and counting at the time of publishing this piece --- and adds a few bells and whistles of its own. Each service you add is listed in its own tab in the Rambox interface, with notifications handled individually for each service and the option to mute all by enabling Do Not Disturb mode.
Like Franz, you can add each service many times, but a key feature that differentiates Rambox is the ability to add a custom service in case you are using an obscure or niche app that isn't already listed. As long as the service is accessible via URL, which I tested by adding a tab for Chatra.
Other unique features include the ability to lock the app if you'll be away for a period of time and setup a password for when you come back or when launching the app. If you use Rambox in different computers, you can synchronize your configuration between them, configure it to use a Proxy if your network blocks some services, and add custom behaviors via custom code injection.
Overall it's a broader and more flexible alternative, though after using it for a few days it didn't feel as polished as Franz, and I noticed a little lag while switching between clients. Rambox is also available for Windows, Mac, and Linux and since it's open source you're always free to check its inner workings.
If you'd rather have a solution that lives inside the browser then All-in-One Messenger will be more up your alley. It has a more limited list of supported services but not by much, and all the big ones are there. Like its desktop-based counterparts above, you can use as many accounts of the same messenger platform as you want. You can get desktop notifications with one-click reply and mute specific services if you are being distracted by one of them.
If you are a fan of hotkeys All-in-One supports a few, allowing you to quickly toggle between tabs or jump directly into one of them and reordering within the chat interface.
All-in-One is simple, stable, well designed and uses roughly the same amount of resources they would in a browser tab in Chrome. It's available as a Chrome Web App, and while I prefer a standalone client, it still serves the purpose for keeping all your messaging clients accessible in a single place. It's also the only of the three that will work on Chrome OS, so there's that, too. You can download it here.