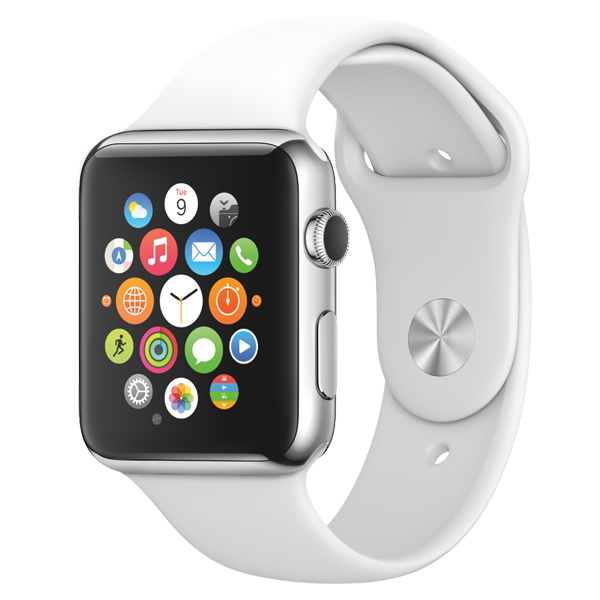 Apple Watch OS Update
6.1.1
This release includes performance improvements and bug fixes for Apple's latest wearable.
Installation:
Go to the Apple Watch companion on your iPhone.
Open Settings → General → Software Update.
Click on Download and Install.
Note: Your Apple Watch has to been in range of your iPhone and its battery has to be charged at least 50%.
What's New:
watchOS 6.1.1 Release Notes
watchOS 6.1.1 optimizes performance, provides security updates, and contains improvements and bug fixes, including:
Resolves an issue where the Mickey Mouse and Minnie Mouse watch face does not speak time
Addresses an issue where the calendar complication may not display events
Fixes a bug that could result in a loss of display calibration data
Performance and Navigation
Press the side button to access your favorite apps in the Dock
Apps in the Dock launch instantly with already updated information
Add up to 10 apps in the Dock, control music from Now Playing or launch your most recently used app
Swipe edge-to-edge to quickly switch your watch face
Swipe up from the bottom of your watch face to access important settings in Control Center
Watch faces
New Minnie Mouse, Activity, and Numerals watch faces
Complications now available on Photo, Photo Album, Timelapse, and Motion
New complications including Workout, Music, and Messages
New Face Gallery in the Apple Watch app on iPhone to add and customize watch faces
Discover and add third party complications in the Face Gallery
Activity
Ability to share and compare your Activity rings
Rank alphabetically, or by progress towards Move goal, Exercise goal, steps or today's workouts
Automatic notifications when a friend completes their rings, finishes a workout, or earns an achievement
Customized smart replies for encouragement or smack talk
New Sharing tab in the Activity app on iPhone to view history
Workout
Quick Start for most commonly used workouts
Multiple metric view, customizable for each workout type
New gestures for pause, resume, and marking segments
Labels for "Other" workouts to keep track of Yoga, Pilates, Cross Training, and more
Auto-pause for running workouts
Siri support for pause, resume, and end workouts
Route maps with speed indicators for outdoor workouts
Wheelchair use
Activity rings optimized for wheelchair users
Accounts for varying speeds, terrains, and pushing techniques
Pushes contribute to all-day calorie goals
Time to roll notification and roll ring
New Outdoor Run Pace and Outdoor Walk Pace workouts
Breathe
New Breathe app to take a moment in your day for short deep breathing sessions
Calming visualization and haptic cues guide you while you inhale and exhale
Adjust session length and breaths per minute
Summary upon completion including heart rate
Time to breathe reminders
Weekly summary
Communication
Expressive Messaging
Full-screen effects to celebrate special moments
Tapback for quick replies to messages, links, and photos
Handwritten messages animate like ink on paper
Send recent built-in or third-party stickers
View secret messages with invisible ink
Scribble
Write words on the display and Apple Watch will convert the handwriting to text
Use the Digital Crown to scroll through predicted options
Available in English (US), Traditional Chinese, and Simplified Chinese
Reply options available in the Messages and Mail notification, including Digital Touch, emoji, and smart replies
New emoji, including gender diverse options to existing characters, single parent family variations, rainbow flag, and redesigns of popular emoji
Emergency SOS
Press and continue to hold the side button to call emergency services
Automatically notify SOS contacts and share your location
Display your Medical ID with information about medications, allergies, and medical conditions
Adjusts the emergency number to your current location
Home
New Home app to control HomeKit enabled accessories
Enable scenes created on your iPhone to control groups of accessories with just a tap
Control favorite accessories from your wrist, even remotely with Apple TV or iPad
Support for IP cameras to see live video in rich notifications and accessory controls
Other improvements
New Reminders app for managing scheduled reminders, grocery lists, and more
New Find My Friends app for viewing location of friends and family
Pay with Apple Pay within third party apps
Delete events and switch calendars in Calendar app
Support for FaceTime Audio calls directly from Apple Watch
Search for Settings in Apple Watch app on iPhone
Camera app controls for Flash, Live Photos, HDR, Zoom, Burst, and Front or Rear facing
Siri support for Spanish (Chile), Chinese (Cantonese - China), English (Ireland), English (South Africa)
Other models:
Previous versions:
Here's other similar drivers that are different versions or releases for different operating systems:
September 19, 2017
Apple iOS
89.0 MB