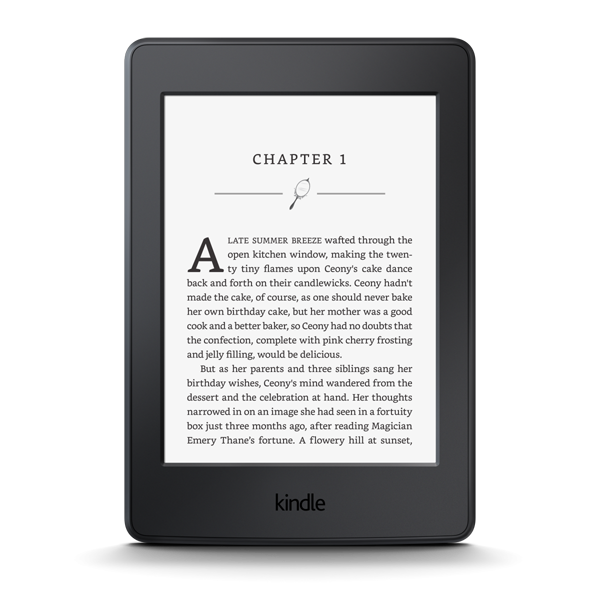 Amazon Kindle Paperwhite Firmware
5.12.3
World's most advanced e-reader - higher resolution, higher contrast touchscreen with built-in light and 8-week battery life.
Features:
Patented built-in light evenly illuminates the screen to provide the perfect reading experience in all lighting conditions
Paperwhite has 62% more pixels for unsurpassed resolution
25% better contrast for sharp, dark text
Even in bright sunlight, Paperwhite delivers clear, crisp text and images with no glare
New hand-tuned fonts - 6 font styles, 8 adjustable sizes
8-week battery life, even with the light on
Holds up to 1,100 books - take your library wherever you go
Built-in Wi-Fi lets you download books in under 60 seconds
New Time to Read feature uses your reading speed to let you know when you'll finish your chapter
Massive book selection. Lowest prices. Over a million titles less than $9.99
180,000 Kindle-exclusive titles that you won't find anywhere else, including books by best-selling authors such as Kurt Vonnegut
Supports children's books and includes new parental controls
Kindle Owners' Lending Library - with Amazon Prime, Kindle owners can choose from more than 270,000 books to borrow for free with no due dates, including over 100 current and former New York Times best sellers
Manually download a Kindle Fire software update and transfer it to your Kindle Fire via USB:
Download the software. Click the following link to download the software update file directly to your computer:
Transfer the software to your Kindle Fire. Turn on your Kindle Fire and unlock the screen. Then, connect it to your computer using a USB cable. On your Kindle Fire drive (the drive is typically displayed as a "device" icon), drag and drop the new update file from your computer to the kindleupdates folder on your Kindle drive. Do not drop the file into any other folder on the Kindle drive.
Monitor the file transfer and disconnect. Check your file transfer progress to ensure the file transfer to your Kindle Fire is complete before disconnecting. After the file has transferred successfully, tap Disconnect on the screen of your Kindle Fire to safely disconnect it from your computer. Disconnect the USB cable from your Kindle Fire and your computer.
Start the software update. On the Home screen, tap the Quick Settings icon, and then select More. Tap Device, and then tap Update Your Kindle. Your Kindle Fire will restart twice during the update. After the first restart, you'll see the Kindle Fire logo on the screen.
Once the update is complete and your Kindle has restarted: If your software update was successful, your System Version should now read 6.3.2_user_4110520.
Amazon Kindle Paperwhite Firmware 5.9.2.0.1:
Previous versions 5.8.8 2017-03-14:
Previous versions 5.8.7 2016-12-02:
Previous versions 5.8.5 2016-10-25:
Previous versions 5.7.2.1 2016-02-17:
Previous versions 5.6.5 2015-08-24:
Here's other similar drivers that are different versions or releases for different operating systems:
January 7, 2020
Android OS
239 MB

January 6, 2020
Android OS
209 MB

January 6, 2020
Windows (all)
210 MB

January 6, 2020
Windows (all)
227 MB

January 6, 2020
Android OS
255 MB

December 2, 2016
Android OS
210 MB

March 22, 2016
Android OS
13 KB

September 1, 2015
Android OS
1.0 MB

August 13, 2015
Windows (all)
114 MB

April 27, 2015
Android OS
202 MB